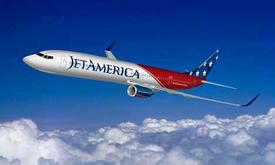 Jet America Airlines will offer the cheapest airline ticket in the U.S., for just 9 dollars. The cheap airfare will kick off on July 13, 2009 with a Boeing 737-800 jet.

Jet America will charge an additional $20 for a round-trip with an assigned seat, $20 to buy a ticket by phone and $10 to book on the Web site. The airline will begin with one leased jet and grow to four planes in a year, said chief executive John Weikle, former boss at now-defunct Skybus. The four initial cities — Toledo, Ohio, South Bend, Ind., Lansing, Mich., and Melbourne on Florida's east coast — are subsidizing Jet America by waiving airport fees and helping with marketing and advertising.

Clearwater, Fla.-based JetAmerica will start 34 nonstop passenger flights a week at Toledo, Ohio; South Bend, Ind.; Melbourne, Fla.; Newark, N.J.; Minneapolis and Lansing, Mich. Twenty-eight flights start or end at Newark Liberty International Airport. The carrier will add six more flights -- from Toledo to Minneapolis -- starting Aug. 14.


Clearwater, Florida - July 17 - JetAmerica, the Florida-based public charter operator, announced today that it was suspending sales to all markets and that it would immediately begin to notify affected customers and process refunds to all customers who have booked on the public charter flights.

"We are reluctantly suspending our public charter operations effective today," said John Weikle, CEO, who has been with the company since April. "Finalizing the slots required to support our charter program at Newark has taken longer than expected and we have decided to suspend our operations in order to refocus on different markets. We still strongly believe that there is an unmet need for affordable air service to secondary markets and we look forward to offering this option again in the near future," concluded Weikle.

All customers will receive automatic refunds within 7-14 business days. Any customer not receiving a full refund in 14 days should call 727-451-3970.