Jet Airways is an airline based in Mumbai, India, operating domestic and international services. It operates over 330 daily flights to 50 destinations across the country and 6 overseas. Its main base is Chhatrapati Shivaji International Airport, Mumbai, with hubs at Indira Gandhi International Airport, Delhi, Anna International Airport, Chennai, Netaji Subhash Chandra Bose International Airport, Kolkata and Bangalore International Airport.

Jet Airways is scheduled to fly daily from Newark to Mumbai, India, starting on Aug. 5, 2007. It will add Toronto-Mumbai service on Sept. 5. By January, it will add daily service from New York John F. Kennedy and San Francisco. Flights will stop in Brussels or Shanghai, and travelers will have the option to start or end their trips in those connecting cities.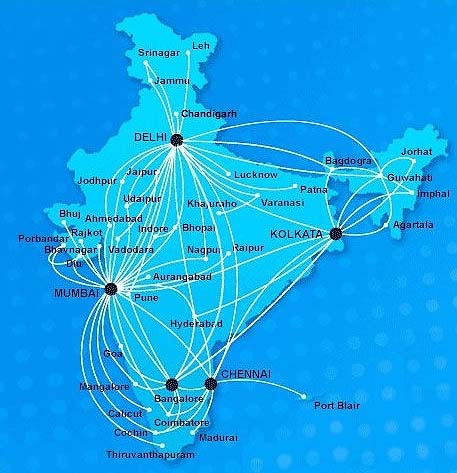 Hubs

Chatrapati Shivaji International Airport

A former travel agent, Goyal launched the airline in 1993 as a charter operator with two leased jets. Gradually Jet Airways evolved into an international airline as India dropped air service restriction laws. Today, the carrier flies to 50 destinations, including Singapore, London and Bangkok.

The first year, Jet carried 734,000 passengers, distributing tickets from a small table at Bombay airport because they hadn't been granted counter space, Goyal says. The airline was profitable from the start.

Today, the carrier has 62 aircraft and has become India's biggest private domestic airline. It carries about 12 million people a year. Steering Jet Airways from two planes to an international airline made Goyal a wealthy man. This year, he landed on Forbes' billionaire list at No. 754, with an estimated net worth of $1.3 billion. He says he owns 80% of the airline

Focus cities

New Delhi

Chennai

Kolkata

Bangalore