Clickair is a low-cost airline based in Barcelona, Spain, that operates services from a number of Spanish cities to nearly 40 destinations in Europe. The main base is Barcelona with hubs at Málaga, Seville and Valencia.


Click Mexicana is a self-proclaimed low-cost airline based in Mexico City, Mexico. It is a subsidiary of Mexicana operating services between 25 Mexican cities. Its main base is Mexico City International Airport.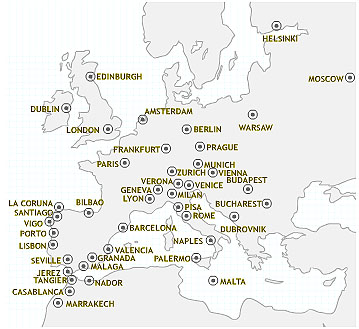 MERGER UPDATE

July 7, 2009
Vueling Airlines
and Clickair said they will complete their "merger of equals" on July 9. The new carrier will use the Vueling airlines name and Iberia airlines will hold 45.9%, Hemisferio/Planeta 14.3% and Air Nostrum parent Nefinsa 4.2%.
Vueling airlines
will operate 35 A320s (18 former Clickair) on 92 routes to/from 42 destinations in 18 countries. "The new Vueling must deliver a three-year plan to the board in October and a zero-growth plan is unlikely to be acceptable," CEO Alex Cruz said. It expects annual revenue of €800 million ($1.12 billion) and an initial €40-€45 million in synergies