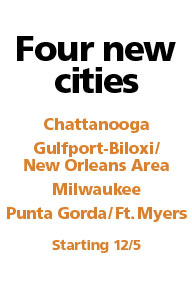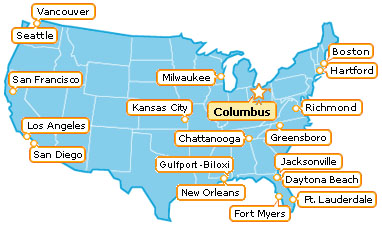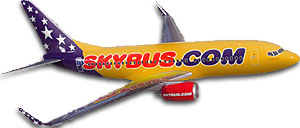 Skybus Airlines is a Columbus, Ohio based Ultra-Low-cost carrier.  Skybus has placed an order with Airbus and plans to operate a fleet of 65 A319 aircraft and will begin receiving the aircraft in late 2008. Skybus will begin operations using 3 leased Airbus 319s and plans to expand the fleet with leased aircraft until they begin accepting delivery of the new aircraft.


This is an unofficial and informational website that is not affiliated, sponsored, or endorsed by Skybus airlines.
Prior to the Airbus order, this was one of the possibilites for Skybus aircraft.

Air service with 10 seats for $10 on every flight, every day!

New U.S. low-fare airline Skybus orders 65 Airbus A319s

26 October 2006

Skybus, a new low-cost/low-fare airline based in Columbus, Ohio, has signed a firm contract for the purchase of 65 Airbus A319 aircraft. In terms of number of Airbus aircraft, this is among the largest single orders ever by a U.S. carrier. The airline has not yet announced its engine selection for the single-aisle aircraft.

Each of the Skybus A319s will accommodate passengers in a single-class configuration. The number of seats and specific route structure remains confidential while the airline gears up to enter service in early 2007.  The airline will initially operate leased A319s as it begins non-stop service from its home base in Columbus, while building its all-Airbus fleet.

"The significantly lower cost base delivered by operating the A319 will enable Skybus to deliver really low fares to our customers at our headquarters in Columbus," said Skybus Chief Executive Officer Bill Diffenderffer. "We believe the low costs and reliability of the A319, coupled with our low fares, will make for an unbeatable partnership as we grow our business and offer more low-fare destinations. We've carried out extensive research to ensure this aircraft can deliver our goal – really low fares and reliable service."

"It is exciting to get in on the ground floor of such a promising operation as Skybus," said John Leahy, Airbus Chief Operating Officer. "It has been a few years since an order of this meaning and magnitude has come from a low-cost start-up airline, and we are professionally flattered that Skybus has turned to the A319 as the core of its fleet. It's a true testament to the airline's confidence in our product and our people."

COLUMBUS, Ohio, April 24, 2007  "Beginning today, passengers can buy airline tickets for less than the cost of a tank of gas," said Bill Diffenderffer, Skybus CEO. "Travelers who visit our web site will find outrageously low fares on nonstop flights to major markets and to cities that are underserved from Columbus. And these fares - starting with at least 10 seats at $10 on every flight - will always be offered. They are not 'promotional' fares that will go away in a couple of weeks. These are the everyday low fares we promised when we began working to build Skybus."


Here are some interesting facts about the Airbus A319. It:

Is large enough to be more comfortable than traditional regional jets, yet able to land at regional airports. With the A319 you get the best of both worlds: the benefits of using a small airport - and a comfortable ride.

Has the exceptional range of 3,700 nautical miles/6,850 kilometers, giving us the capability to fly you non-stop across the continent.

Typically seats 156 passengers, with comfortable leather seats throughout the cabin. Note that all seats on Skybus flights are a single class - there is no First or Business-class seating.

Has wider aisles than other planes in its class, making it quicker and easier for passengers to get on and off.

Is a 'state of the art' aircraft with the latest electronics and flight instrument equipment.